Andrew Queen: "Too Tall"
It was 13 degrees today in the Garden City of St. Catharines, Ontario. What better day to review Andrew Queen's 2010 campfire CD, Too Tall?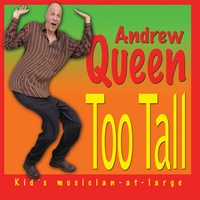 "Please file under children's music," reads the label, but this album qualifies as fantastic family fare—definitely on the folk spectrum, but with story telling to evoke laughter not tears.
We met Andrew Queen around the very same campfire depicted in the album art, at the Shelter Valley Folk Festival near Grafton, Ontario. While that was the best way to experience Queen's sing-and-dance-along tunes, the atmosphere can be almost duplicated in any setting with a couple of keen kids. We're lucky to have a pair.
Five-year-old Gideon's favourite cut is a toss-up between "Hello my Name is Joe" (an action-packed campfire chant with new music by Queen) or "The Hockey Song" (yes, that hockey song, originally performed by Toronto band Jughead, of which Queen was a member). After only two weeks of play, Gideon has both songs memorized and he can be heard belting them out at any dull moment of the day. Three-year old Hannah shares her brother's love of "The Hockey Song," but also loves to sing along with the chorus "who's afraid of the big bad wolf" in "Big Troubles for Little Red."
My personal favourite is the ska-esque "Cinderella"—one of Queen's signature gussied-up fairy tales that sing like they were meant to be songs not stories.
Queen's accessibility comes from this mix of funny and familiar: there's a twist for the adult audience and a straight forward sing-along lyric for the younger set.
Too Tall is a good follow-up to Queen's 2004 release, Alligator Hunt. There you'll find two more of those fabled fairy tales and lots of other singable songs. Both albums feature a few Andrew Queen originals and a collection of traditional tunes. Alligator Tracks was slightly less ambitious, with Queen being backed by just three accompanying musicians. Too Tall boasts a broader instrumentation thanks to a great group of folk musicians adding everything from spoons to upright bass.
Too Tall is too much fun! Gideon ranks it 12/14.
Alissa Vernon is a writer, web producer, folk music supporter and mother of two discerning fans of kids' music.